The Silence
The Silence came to Earth and populated the planet from the beginning of Time. They are a religious order of movement which means Silence will fall when the question is asked. They can manipulate human behaviour in any way they please, They made the human race go to the moon because they needed a space suit to help River Song (MELODY POND) kill The Doctor. The Silence ruled the worlds by post hypnotic suggestion. (POSTING IDEAS INTO OTHER PEOPLES THOUGHTS!) They were eventually stopped by the Doctor who tricked them into giving the order for ther own execution.
"YOU SHOULD KILL US ALL ON SITE!" The silence have since been scattering but on parrell realities they still exsist. They were contained within the pyramids but escaped and betrayed Madame Kovarian.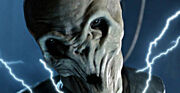 ALLIANCES
The Silence had a strange connection with Clerics, Madame Kovarian and Headless Monks it's not quite nown why though speculation amongst Doctor Who fans has been made as to why they wanted to kill the Doctor.
The Silence edit themselves out of your memory as soon as you look away even information erases itself over time AND CAN STREAM ELECTRICITY AS A WEAPON!
OVERVIEW - NOT TO BE TRUSTED - POTENTIALLY DANGEROUS!